Testimonials and Reviews
Mr. Ramirez is a very good salesman, he is well versed in the electronics use, and the autos. He worked very hard to reach an agreement between us and the company, and he was successful, We would recommend your company and Mr. Ramirez to our friends and any one that asks. I think this is the 3rd or 4th SU, we have bought from Ford, personally we don't think Ford autos can be beat, as far as price, service, and deals..Thanks for being there...
Cecil and Fumiko
---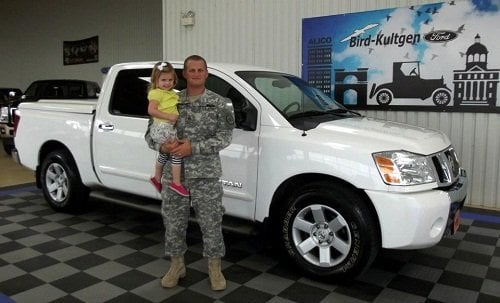 Just purchased my awesome 2005 Nissan Titan from Bird-Kultgen! A big thanks to Yvette Narro, who did all the leg work for me, got me a great deal, and just about sold me the truck over the phone before I even came in. It was definitely worth the drive from Fort Hood. Can't wait to pick it up on Monday! I will recommend this dealership to my friends for sure. Thanks!
Joseph Michael Sleyko III
---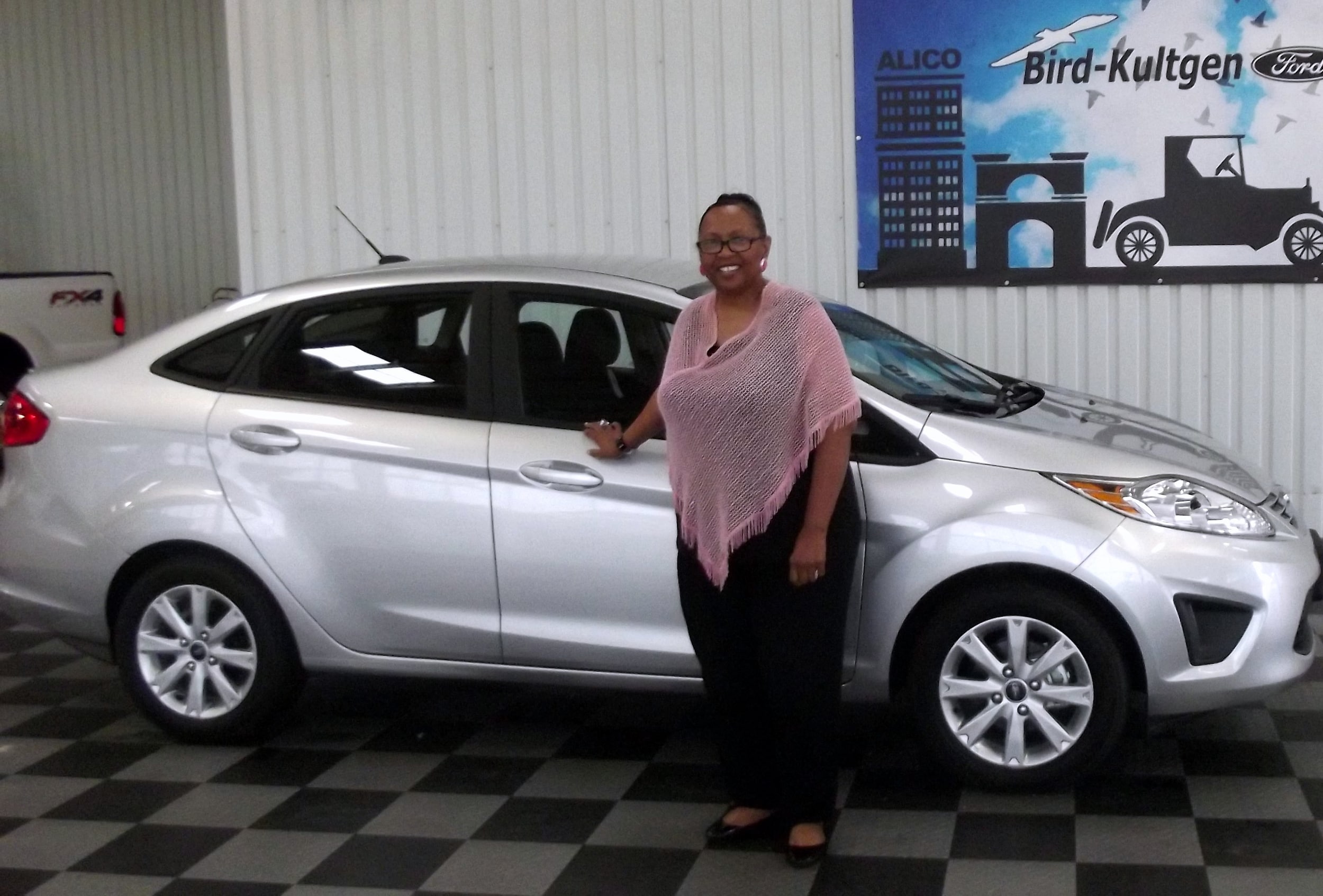 Yvette is an awesome lady. I was satisfied in every way with her customer service. Car sales needs a lot more people just like her. I am so thrilled about my brand new car. It is the first one that I have ever owned. I am glad the Lord and Yvette helped me to live to see this day. All of your co-workers, managers, etc. were very nice to me. Thanks again!
AliciaHines-Kelly
---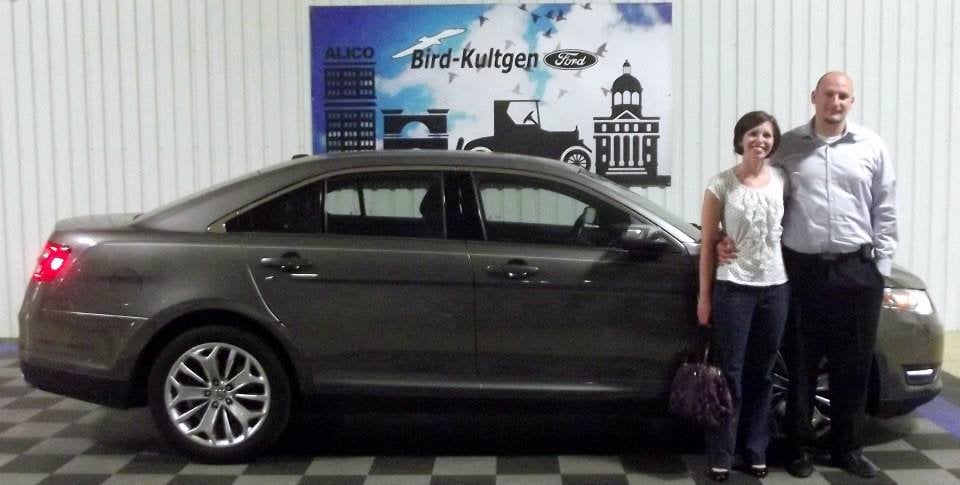 I wanted to send you a quick note to let you know about one of your employees. In August, Vince and I purchased a car from you and were assisted by Mike during the process. I am not typically a fan of any car salesman as I have a stereotypical negative view of them however, Mike seems to be of a different breed. He was wonderful to work with during the process, making sure we had time to discuss (although with Vince, there's never any "looking", he has one mode?"buying")! Mike also stayed much past when you were supposed to have been closed to help us seal the deal with other staff members helping us receive the best rate possible and a payment that would be comfortable for us. Since we purchased the car in August, Mike has made sure to call us almost every month to check in and I always feel that he truly and genuinely cares about how we are and how the car is running. When we did have an issue with the vehicle shortly after purchasing it, Mike made sure our concerns were heard, accommodated, and fixed. I don't even need a new car and I want to buy one simply because Mike is so nice to work with!
Megan
---
I wanted to thank you for helping my wife and I out in adesperatetime. Our truck broke down on I-35 while traveling through Waco to our home in Southlake, Texas. We were on the side of the road for 2.5 hours the day after Thanksgiving before getting towed to Bird Kultgen, and my wife and I were sick as dogs with colds. Leslie in your sevice department was very nice and helpful. We weren't there for 5 minutes before someone began working on our truck. We were on the road again within a couple of hours thanks to everyone's assistance. I would highly recommend your company and the folks that represent you. Thanks again.
Mike Folks
---
I HIGHLY RECOMMEND BIRD-KULTGEN FORD!
After much research, I determined Bird-Kultgen Ford to be the best first start of my journey to buying a car ~ and I'm so glad I did! I felt welcomed right away by sales consultant, YVETTE NARRO, who was professional, patient and attentive. Yvette listened to what I was looking for, found it and I'm very happy with my car. She and sales manager Tim Pietsch worked up a Great Price (thanks, Tim!), especially with all the extra features the car has inside and out which adds a lot of quality. Everyone from sales manager, Phillip Howard; finance manager, Paul Carrizales, to Tim and Yvette, made it a very pleasant experience. I will definitely refer my colleagues, friends and family to YVETTE NARRO when they are ready to search for a car.I had a 'great first start and awesome finish' at Bird-Kultgen Ford!
Happy Customer, Cathy L.
---
My family has purchased and has serviced vehicles at Bird-Kultgen for many years/decades/well, more than half a century, in my memory dating back to a 1946 Ford Coupe delivered to my father as he restarted his medical practice fresh from WWII. From a 1966 Mustang, then a 1970 Country Squire, through a 1983 van and including the two Expeditions we now drive, most of the vehicles in our driveways have had BK logos on the back. Early in my driving life, I even owned Model A's and 1929 and 1931 5 Window Coupes. No BK logos, but they were Fords.
I don't know if Ford's are "better than the rest," but all that experience has taught me that BK's people, from the front doors to the service bays, are the "best." We return because we are welcomed, recognized, treated well, and well served. When I drive away from BK, I'm confident that I can depend on BK's service and people.
While I am old enough to remember Mr. Bird, knew Mr. Kultgen well enough that he called me by my first name, and have been acquainted with current management since they were but young cubs (I even ran into Charlie Furrer on my last visit), it's not the past that I rely upon, but Bird-Kultgen today, continuing the quality and consistence upon which I've come to depend.
Tom M. Oliver Oliver Associates Waco, TX
---
"Ernesto Ramirez was an amazing salesman that shows how valuable a trusted car salesman can be. He spoke openly and honestly and made me feel comfortable with my purchase. He is the embodiment of what it is to be a great employee. The Ford Company is a better business having him there. I would recommend him to anyone I know that is interested in buying a new car and as long as he is a part of the company, I will continue to buy vehicles at Bird-Kultgen Ford. Thank you for hiring such a sincere, capable, and passionate employee."
Zach, new Focus owner
---
We just wanted to drop you a note and let you know how pleased we are with the shopping experience at BK Ford. We love our Explorer! We want to express our thanks to Mr. Lewis and Mr. Howard. Mr. Lewis was our salesman, and he was very nice and informative. He was quick to call back and very accommodating with 2 test drives. HE knew information off the top of his head and was always very interested in helping us find the right vehicle. Mr. Howard was very congenial. Hw was prepared when we went to his office and was easy to talk with. He had all the answers to our questions and we feel we were treated with respect. We struck a fair price on a great car. He really appreciated our business, and I am happy and proud to shop locally.
We usually don't like the car buying experience, but this was refreshingly different. We have purchased 2 cars in the last 2 years and we are pleased with both. We will be back!
David and Jan Skopik
---
Vanessa,
I wanted to take a moment and tell you how impressed I was with you and your dealership.Yvette was very knowledgable about the Ford Escape I test drove as wellas the options included.Anthony was very professional and personable as well, and I will be recommending your dealership to anyone I know looking for a new/used vehicle. Thank you again, you are all greatly appreciated.
Dee Willis
---
Bird Kultgen was great to work with and I had one of the best experiences with the service department. Leslie was so kind and kept me up to date on the status of my car while it was being serviced. She is an excellent customer service representative!!! BK Ford is lucky to have such wonderful Employees.
Maureen Green, Robinson
---
I felt compelled to write you today about Wes Dawson. He has been my service advisor for over 6 years. He is always efficient and knowledgeable. If Wes works on commission, I would never know it; I have never felt he has encouraged any unneeded maintenance. If Wes is on vacation, I turn my truck around and leave. I have been truly satisfied each and every time I have used your service department. If you have an employee of the year, then it is Wes.
Brain Adamik, President and CEO Ram Aircraft
---
We still try to bring our truck in to have service at Bird-Kultgen, after moving a few hours south of Waco... Wes is fantastic in the servicedepartment... we have been calling him since we purchased the pickup, for all our service needs... he makes it worth the trip each time we need service.
Brian "Rockey" Rochnowski